Young Adults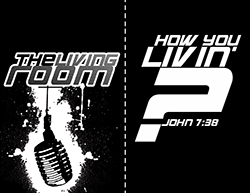 Living Room Cafe Ministry
Mission Statement
The Living Room Cafe Ministry seeks to challenge, enrich and develop adults between the ages of 18-45 through the understanding of God's word as it applies to our lives. We will provide a platform where adults can meet on a quarterly basis to discuss spiritual issues facing the group; provide support, and fellowship to further develop its member's spiritual growth while enhancing God's Kingdom.

The Living Room Café Ministry mission is based on John 7 verse 37-38 (NLT). On the last day, the climax of the festival, Jesus stood and shouted to the crowds,
"Anyone who is thirsty may come to me! Anyone who believes in me may come and drink! For the Scriptures declare, 'Rivers of living water will flow from his heart".
Recent Event Photos